There are two things that really bother me about our dining room currently: 1) the terrible fabric that is on our chairs (and maybe the chairs in general), and 2) our cheapo light fixture. The sellers put in this light fixture as an update before selling the house, and it probably replaced something much worse. But still. It is just so ho-hum boring and Home Depot-tastic. It needs to go.
There is the living room as it stands, and there are the offending chairs and light. The Chippendale chairs and the Hepplewhite table just aren't jiving, and of course there is that dreadful fabric. I just can't do anything about those chairs right now, but I finally made a decision on a light.
After reviewing photos of dining rooms that I love (here's to you,
Pinterest
!), I found that the common theme was a white or light chandelier with moderate crystal. Ideally, it visually blends into the room. I've always loved the French empire shape, but usually they are a bit over the top (both in sparkle and price). This French empire-inspired chandelier from Restoration Hardware fit my requirements, and it is surprisingly affordable. What? Restoration Hardware affordable?? I know, I don't get it either, but maybe it is because it is actually from Restoration Hardware
Baby & Child
.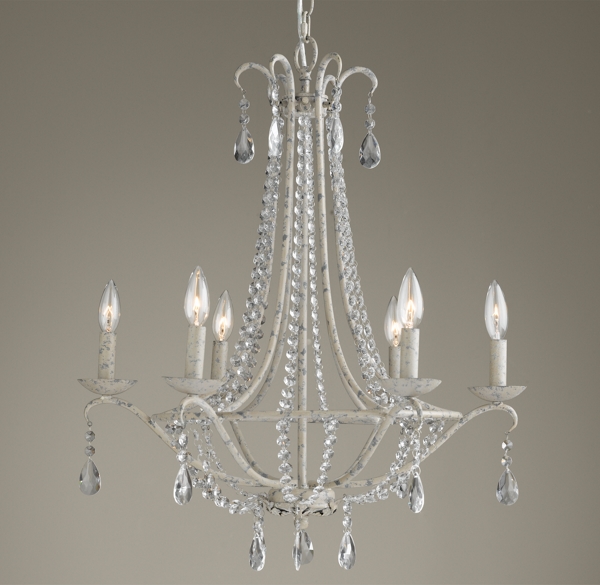 Yes, I am planning on putting a light in my dining room that Restoration Hardware considers "baby's first light fixture". The scale seems right, and the rustic white makes me think it will work. Fingers crossed.